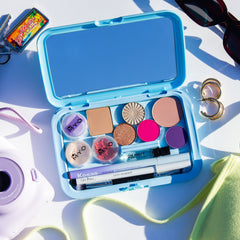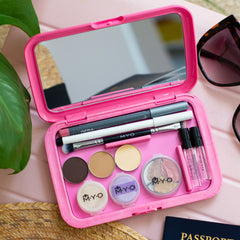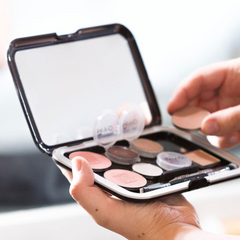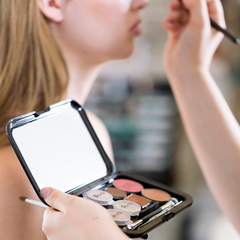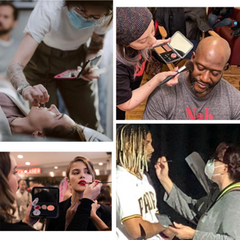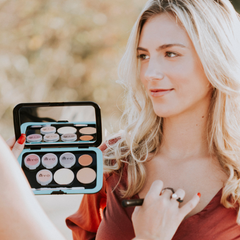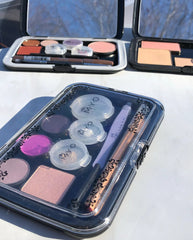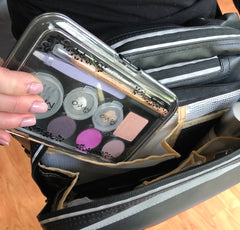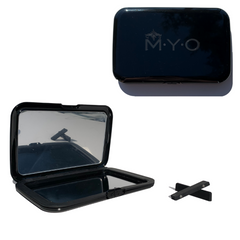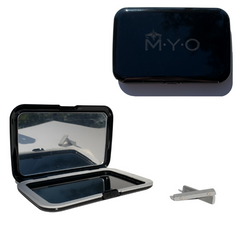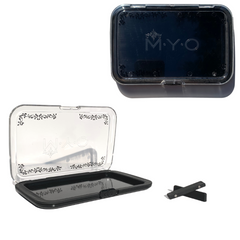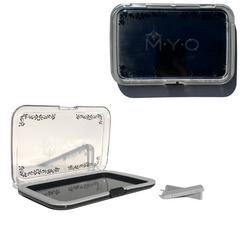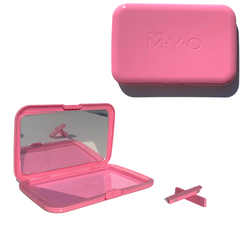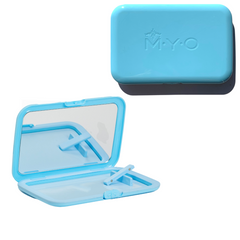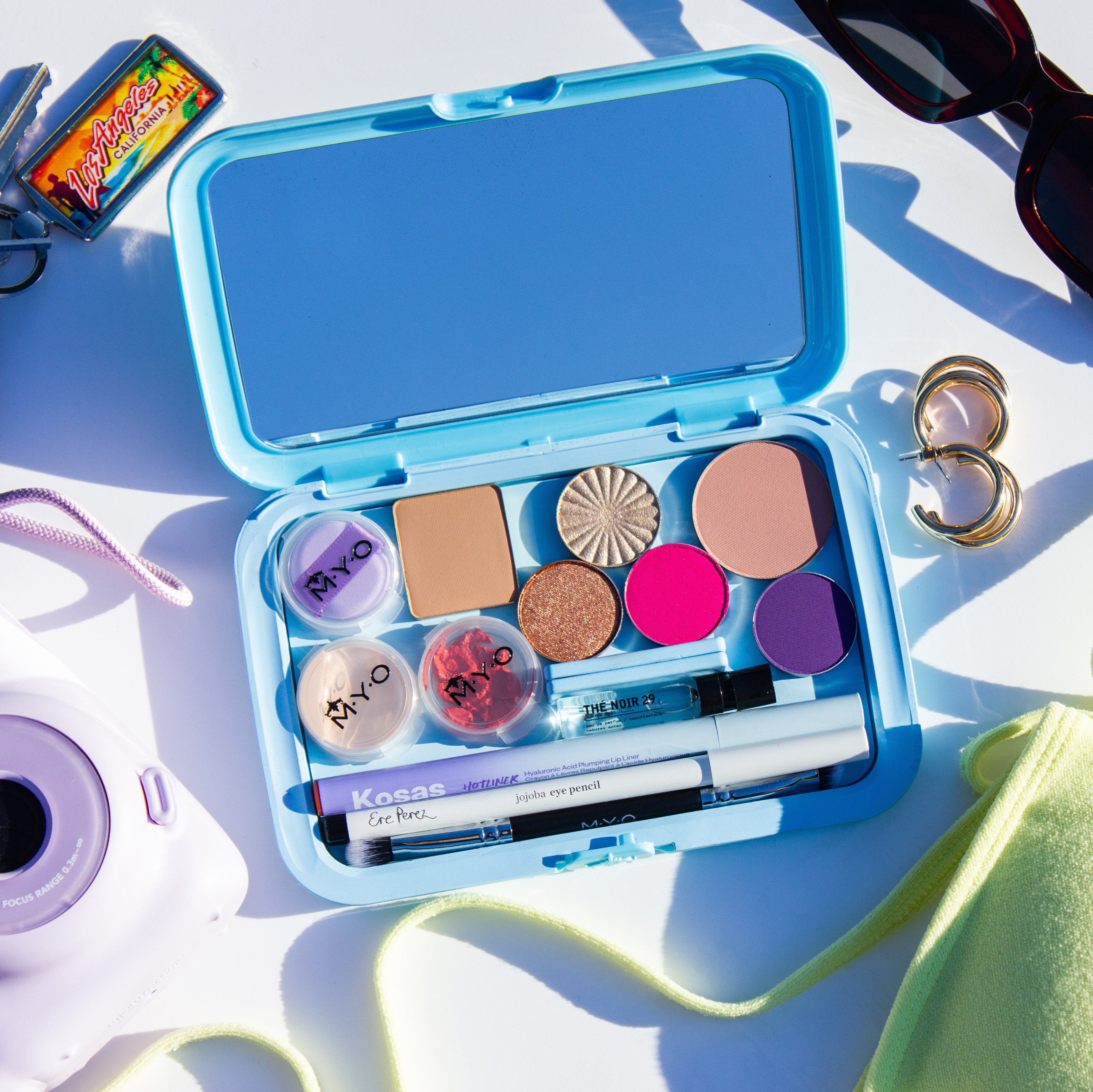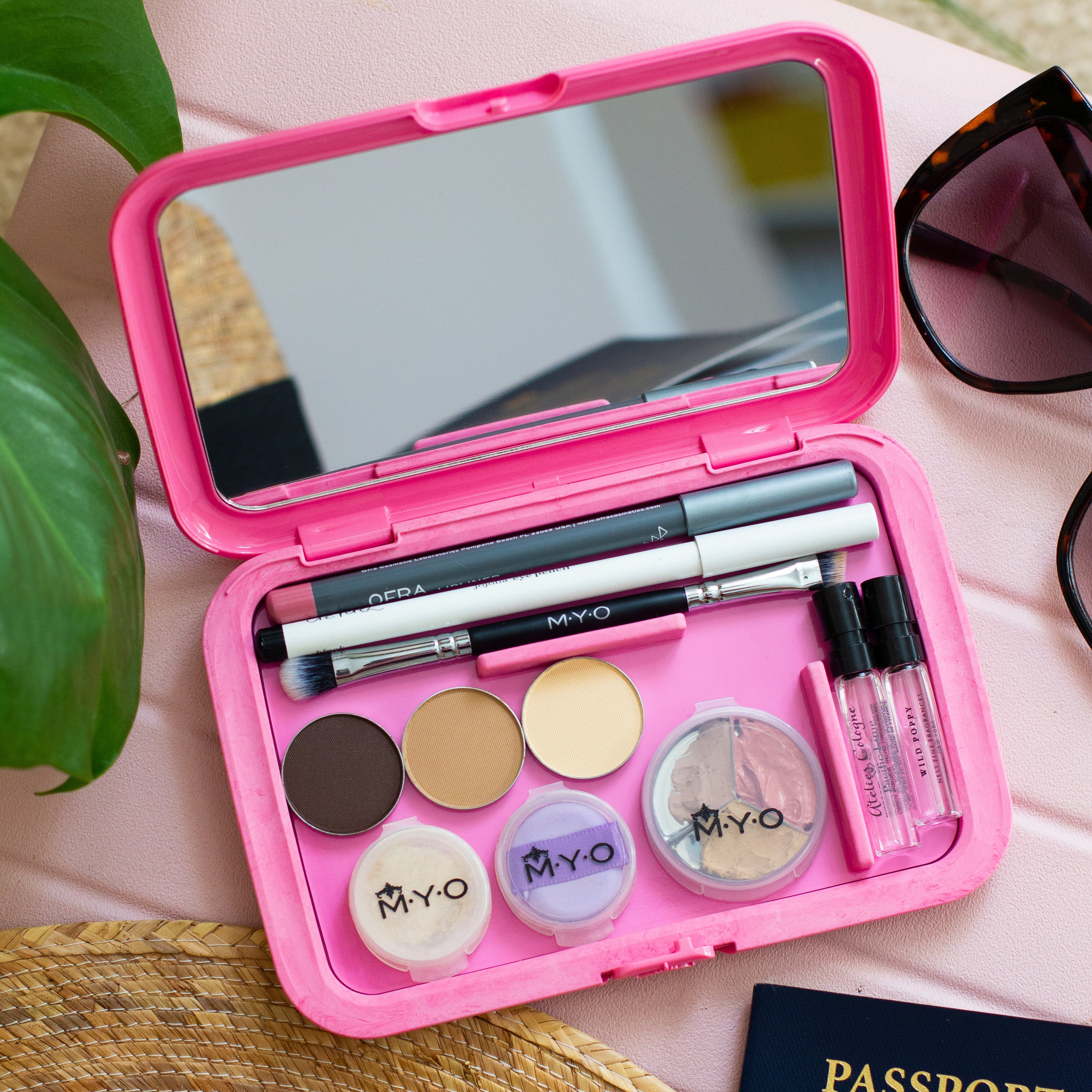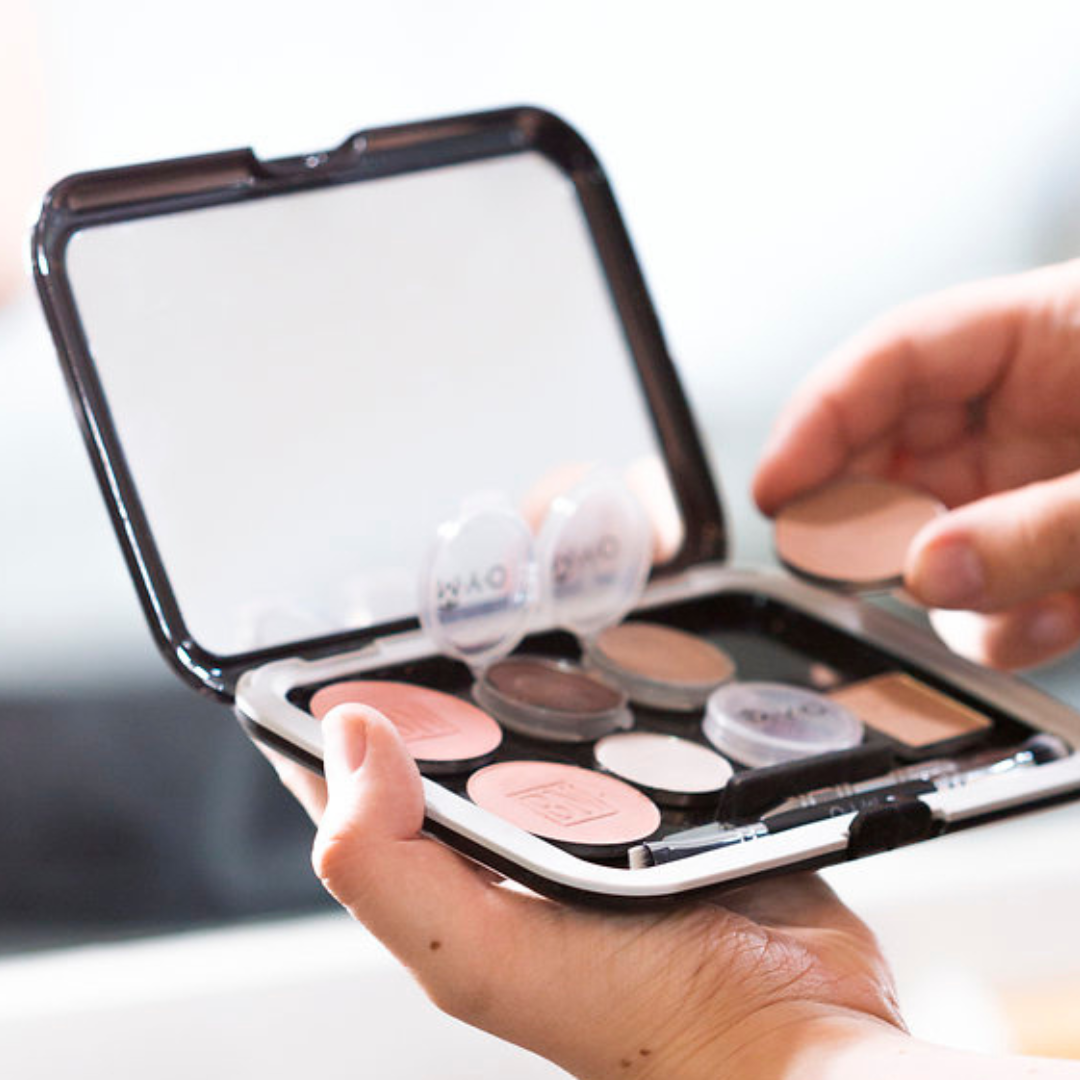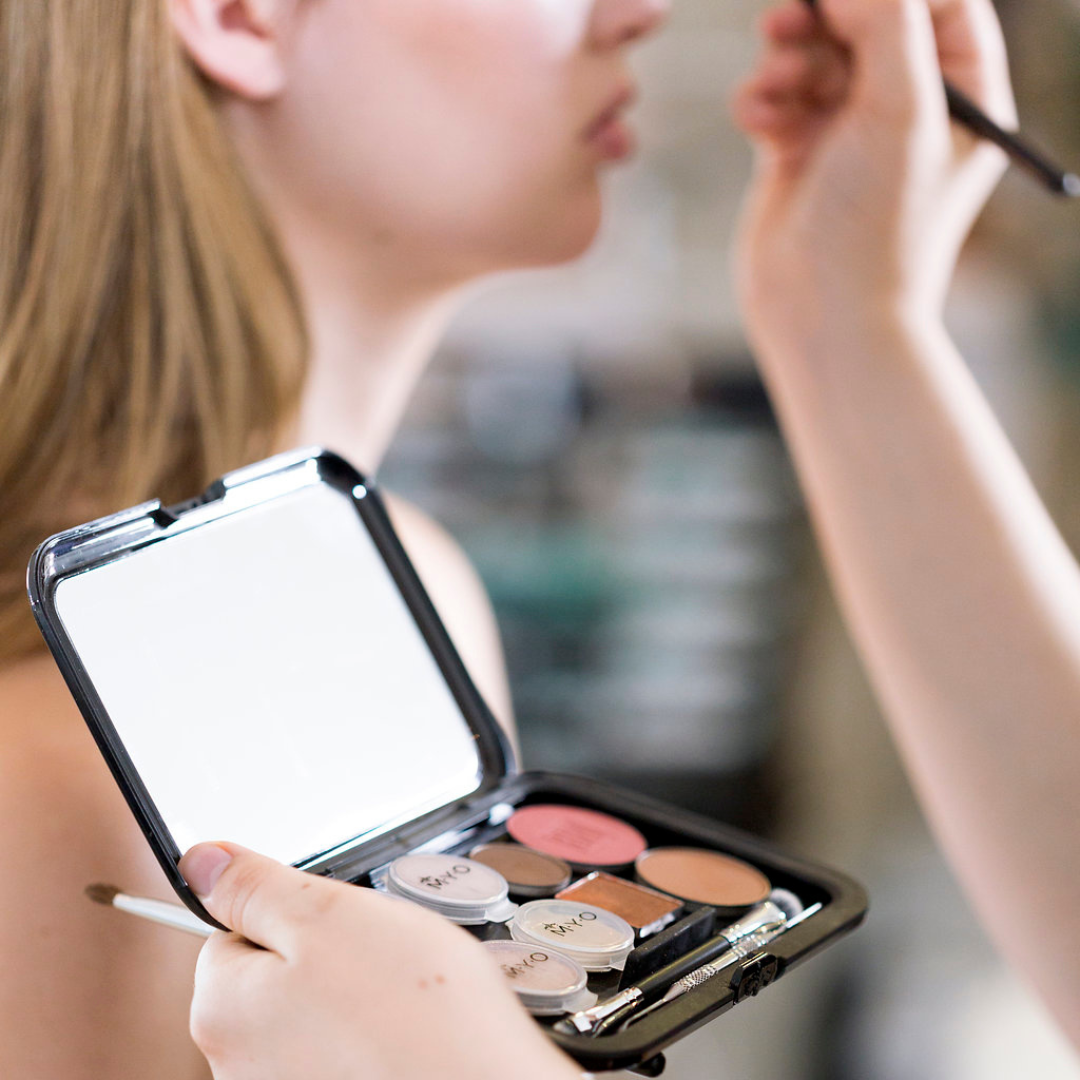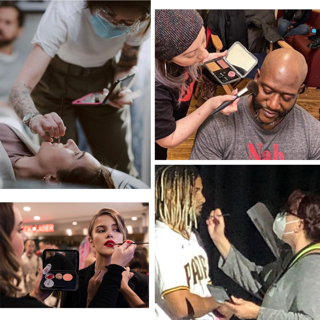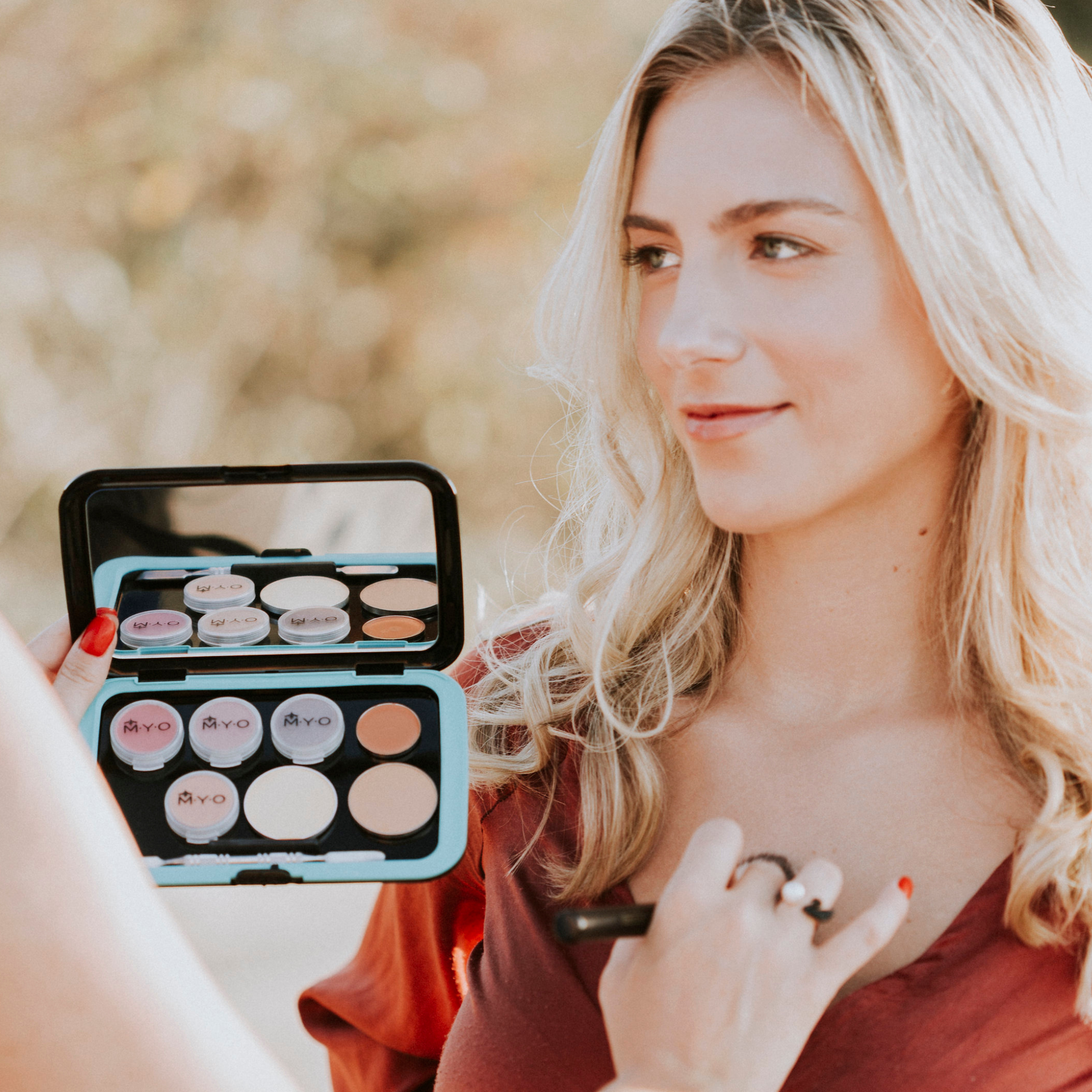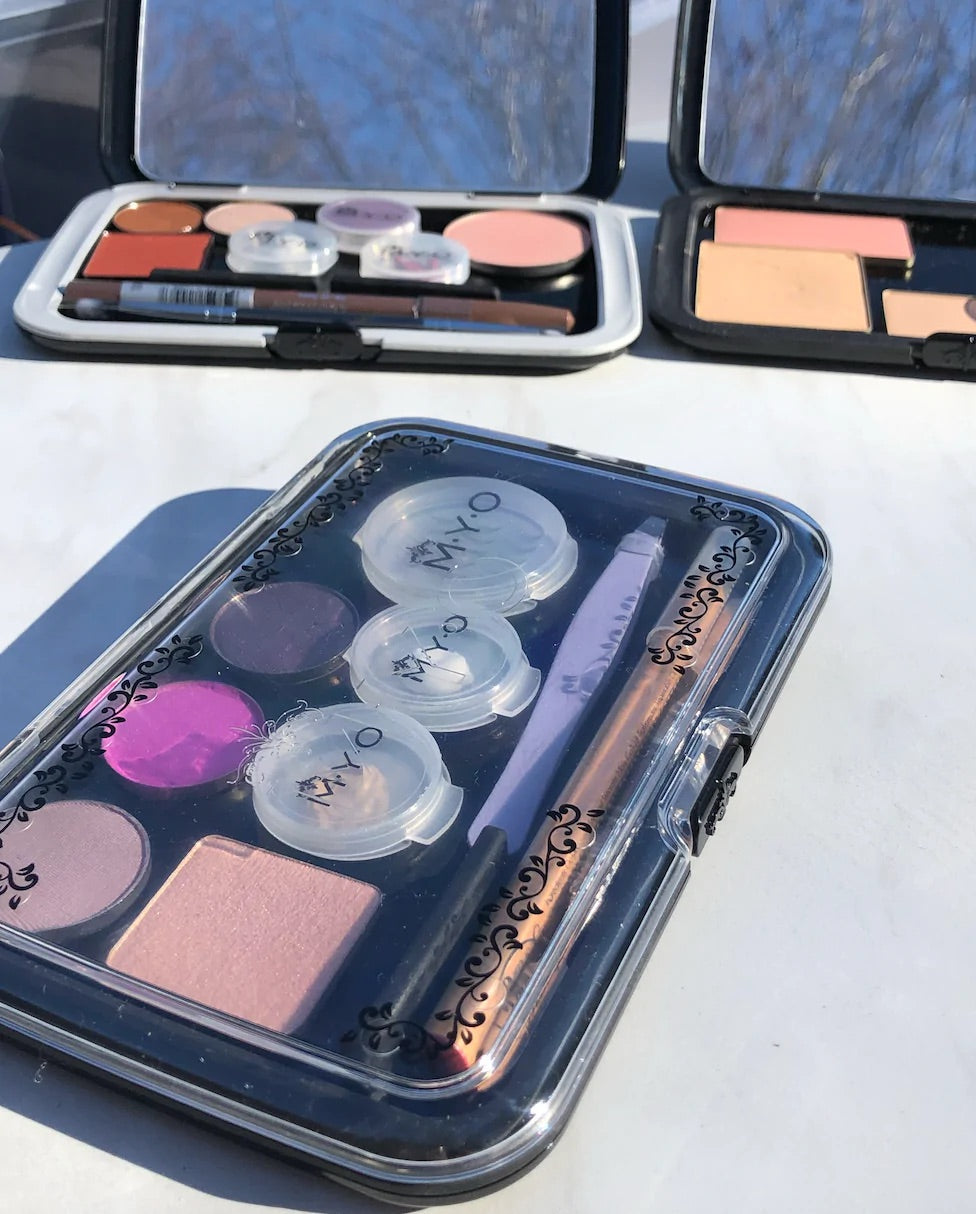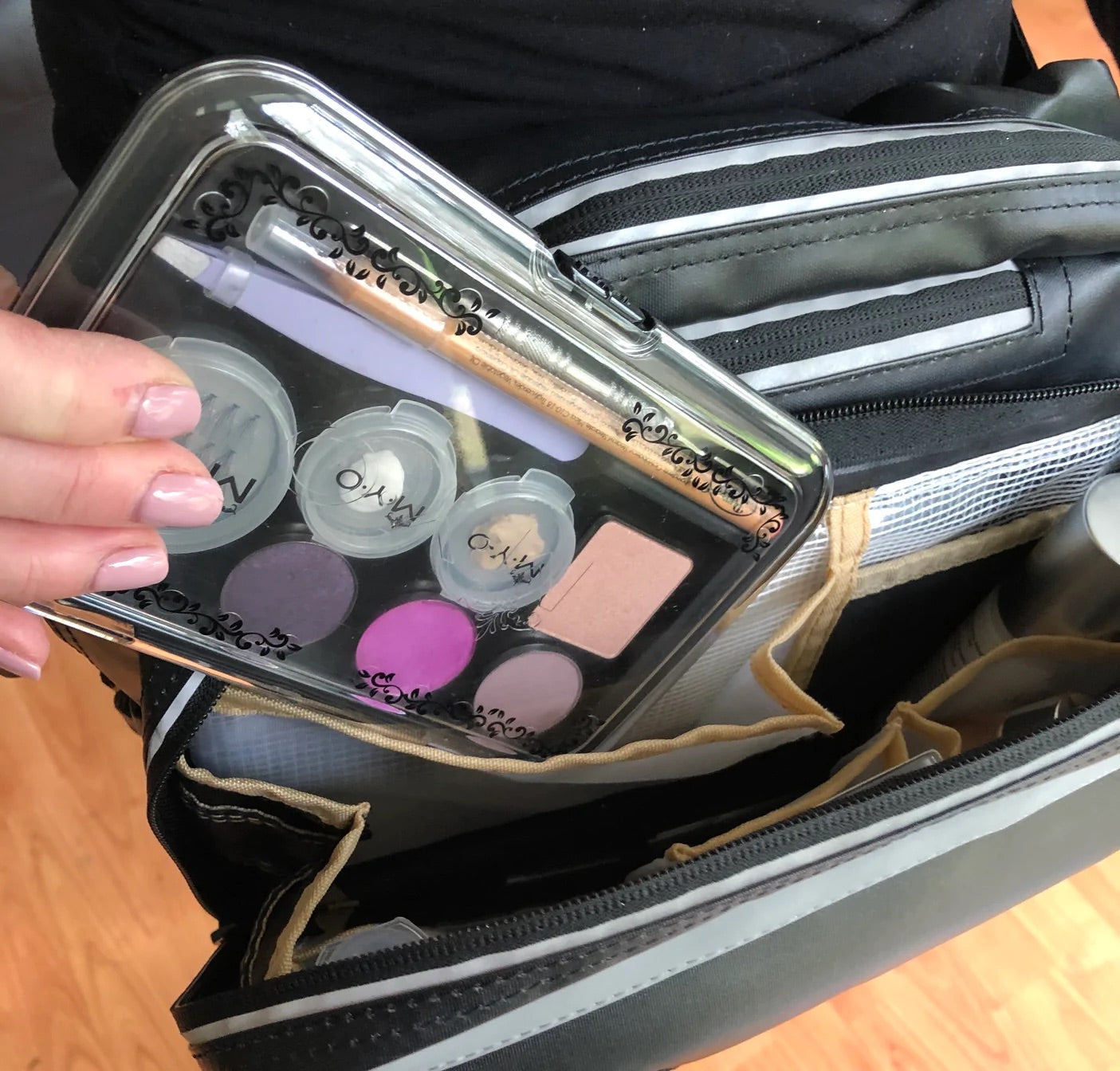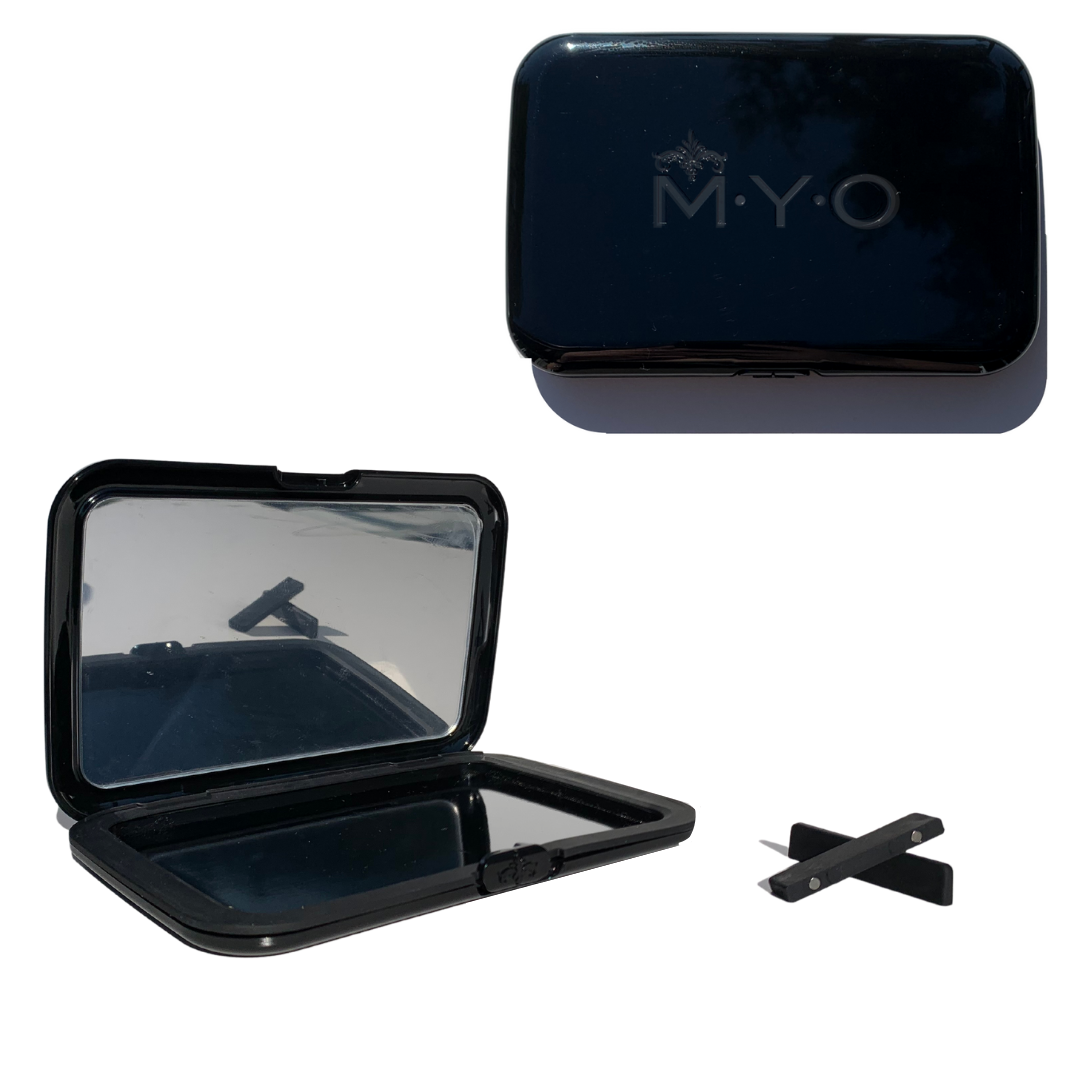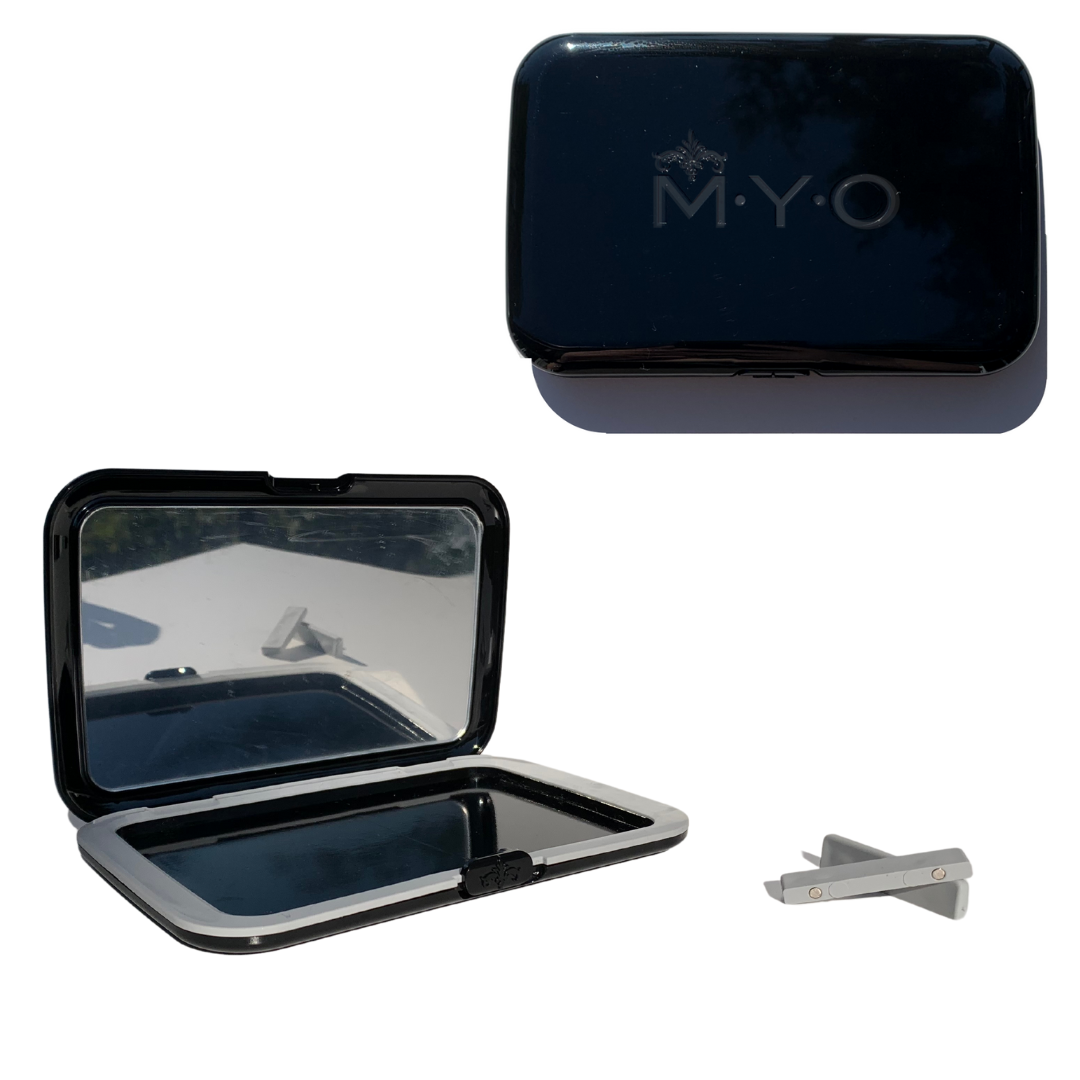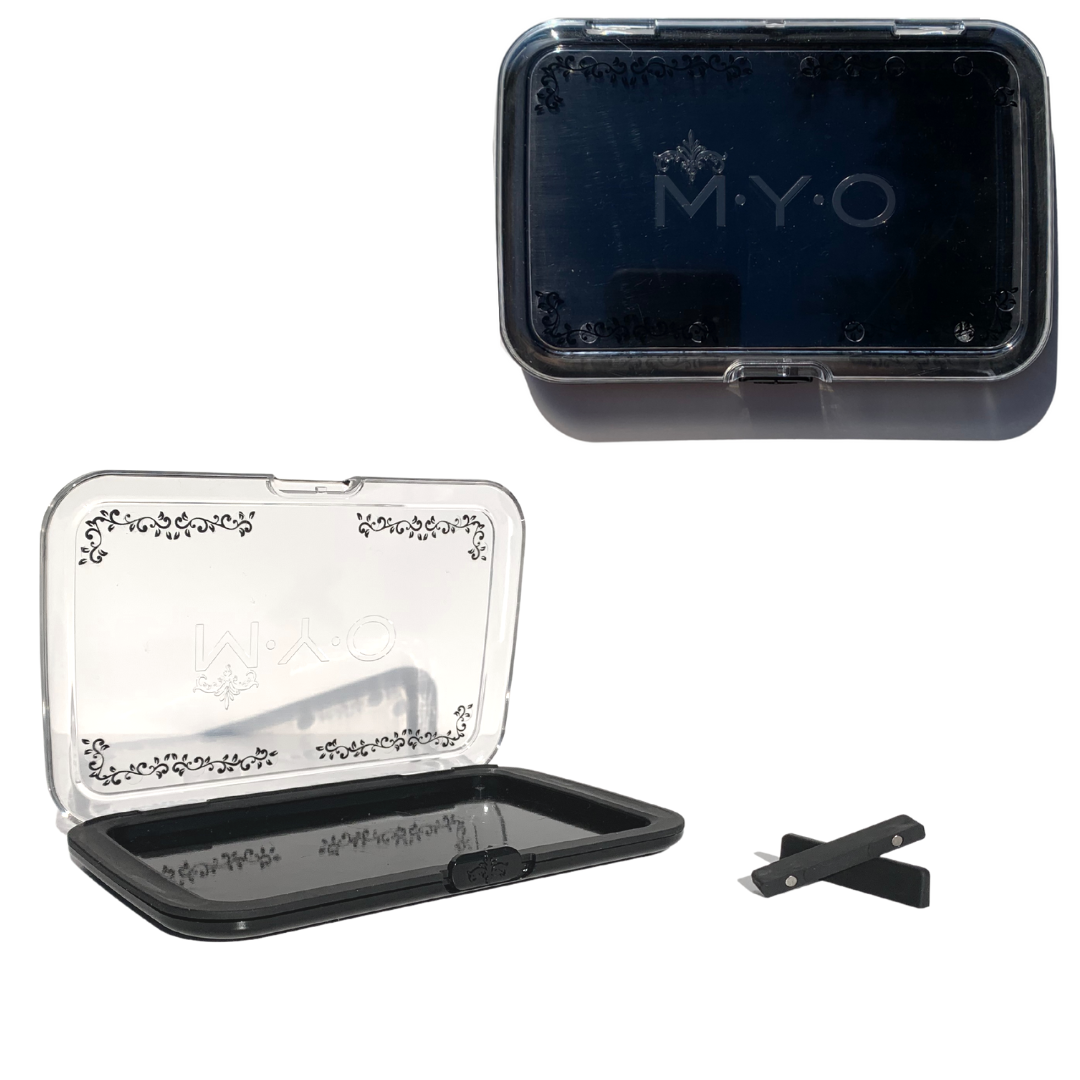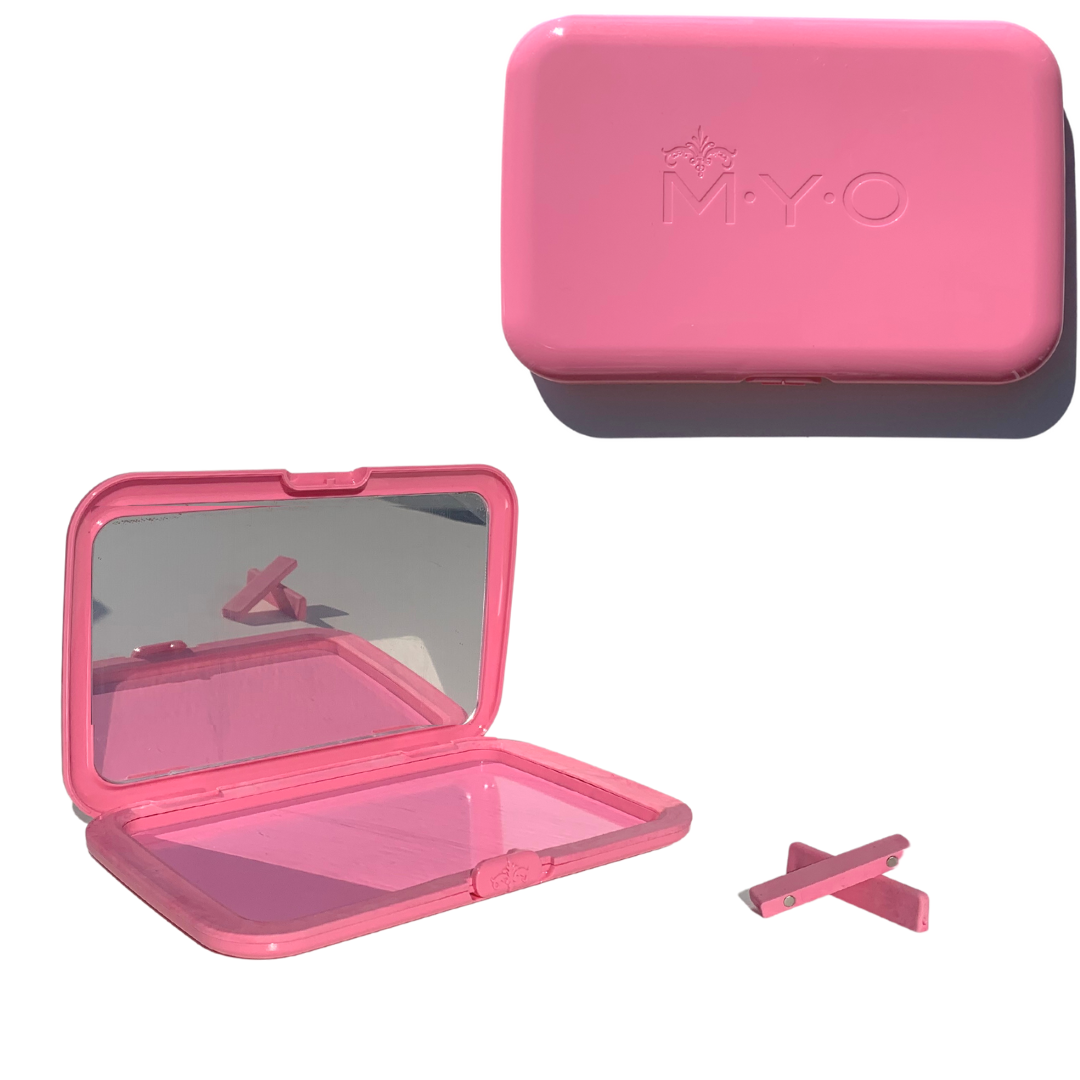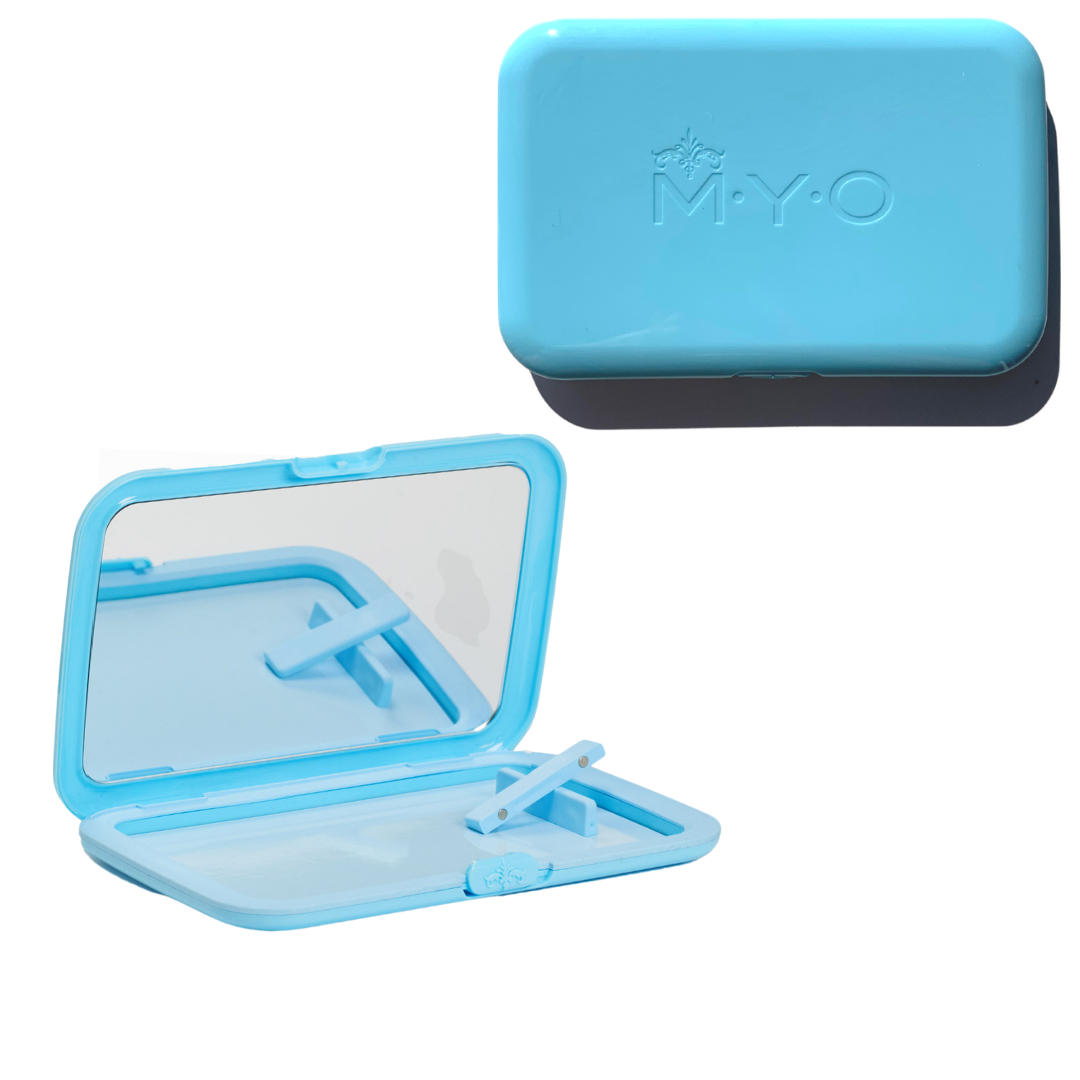 Pro Travel Makeup Case
Out of stock
Customizable, magnetic, protective travel makeup case and touch-up kit in one.

Fill with your favorite makeup refills, creams, pencils, gels . . . Show More
The Ultimate Travel Makeup Case Has Arrived
A travel makeup case + touch up kit in one.
Customize with all your beauty products.
Ditch the bulky makeup bags.
Take more products in less space.
Everything you need for a full face of makeup:
With a strong magnetic base, the Pro Travel case holds all your pan makeup, cream, and liquid products.

Add brushes, pencils, sponges, and MYO Makeup Pods to create your perfect travel makeup kit.



Use the full-size mirror for easy touch-ups anywhere, anytime.
Which brands carry pan makeup?
See our list of makeup brands that carry single pan makeup
I'm so obsessed with them! Such a lifesaver!
Lisa Dempsey
Pro Makeup Artist
MYO Cosmetic Cases are one of the greatest inventions in modern cosmetics history. It has changed the way we pack our kits. Almost any human would benefit from owning one.
Justin Mayfield
Pro Makeup Artist
The MYO System forever changed the way I travel, and my daily beauty routine. It's streamlined my everyday makeup routine, saving me time and space — I'll never switch back to carrying makeup in packaging!
Lauren McGrath
Traveler & Pro Makeup Artist
The cases are like nothing I have ever seen before. I had never had the opportunity to have all the products I need for a touch-up in one spot (outside of a set bag). Everything I need is in a case. I can't recommend them enough! It allows me to work more efficiently.
Abby Wren
Pro Makeup Artist
It's thoughtful products like yours that take the stress out of being creative. Us Pros can't thank you enough for making products that work just as hard as we do! I loveeee the Pro MYO Cosmetic Cases. They're such a lifesaver on set!
Blythe Tierney Dever
Pro Makeup Artist
This is amazing! I see why everybody is obsessed! MYO really helps to make it easy to stay organized, to stay sanitary, and just be as efficient and effective as you can be on set. It's been invaluable in terms of staying organized. It will really help to keep ourselves and talent safe.
Michela Wariebi
Pro Makeup Artist
#MYOCosmeticCases
Shop All Makeup Cases & Accessories
The Perfect Makeup Touch-Up Kit
Used by Pro Makeup Artists Everywhere
Customize for each client
Craft the perfect touch-up kit for talent and characters on set.
Save time
Work quickly and efficiently, by carrying exactly what you need.
Save space
Streamline your kit, and hold everything you need in the palm of your hand. Ditch the packaging bulk.
Meticulously Designed
Full-size mirror
Large, high-quality mirror for easy on-the-go touch-ups.
Strong magnetic base
Holds all your beauty products securely. Includes 2 magnetic dividers to lock-in loose pencils and brushes.
Protects your products
Durable hardshell case and anti-slip gasket protect your products from drops and spills. Ultra-strong spring-loaded clasp tested to withstand thousands of uses.
Frequently Asked Questions
Can this replace my travel makeup bag?
Absolutely. It holds the right amount of makeup and cosmetics for your travels – anywhere from a weekend trip to a multi-week stay.

The protective design keeps products safe from jostling and unexpected spills. Traveling with makeup has never been more convenient!
How do I get my makeup in the case?
Decant all your cream and liquid products into our Makeup Pods. They hold a surprising amount of product!

Magnetically snap pan makeup into the case. Shop your favorite refillable brands to purchase pan makeup here.
Can this hold my skincare and hair products?
Yes, you can decant a travel-sized amount of your favorite moisturizers, serums, gel cleansers, and SPF into the MYO Makeup Pods.


These can also hold hair gel, curl cream, volumizing powder, and more.


The magnetic base is perfect for organizing bobby pins and other hair accessories.
Can this really fit my full face of makeup?
Yes, absolutely! Peep the diagram above to see all the makeup one case can fit.


Add it to a small bag with brow products, mascara, makeup brushes, and you're good to go anywhere with your full glam routine on-hand.
Why not just stick with travel size makeup?
Travel-sized makeup is notoriously expensive, and the original packaging still wastes valuable space in your travel bag. Plus, not all brands offer travel-sized makeup for your exact products.


Ditch the packaging! Instead, pop in makeup pans from your favorite refillable makeup brands.


What are the most practical uses in everyday life?
This case isn't just for travel – it will simplify your everyday makeup routine.
At-home and on-the-go touch ups are a breeze with all your makeup in the palm of your hand.
PRO MUAs: Can it fit a full touch-up kit for a client?
Yes! We designed the case to be used on-set by pros.


You can fit everything from full-sized powders to lipsticks, concealer, powder puffs, and so much more.
PRO MUAs: What's the best way for pros to use it on set?
Save time by creating pre-set kits for each talent, character, or client you'll be working with on set.


Label the cases for each client, and confidently run to set for touch-ups, knowing you have everything you'll need in the palm of your hand.
PRO MUAs: What else does it fit that is useful on set?
Special effects products, hair products and accessories, and styling tools like safety pins and clasps, and so much more.
This is my favourite magnetic palette for talent. Keeps everything clean and orderly for the day. I love these things!
Chie Sharp
Pro Makeup Artist
I love my MYOs! I lost one when my actor begged me for it; she loved it so much.
Jan Rooney
Pro Makeup Artist
I am so psyched to have a whole new system for my kit. I love what you are doing, and it is so smart and NEEDED! 
Tracy Murphy
Pro Makeup Artist
Whether it's beauty, FX, working on set, or freelance, you must work fast and efficiently. MYO has helped transform my kit in all the best ways possible. From brows to contour everything is in the perfect spot and easy to grab, I never have to look twice for one thing. I can rest assured that my powders make it to each location without harm with the durability of each pallet. I don't think I could live without this line in my life!
Gina Scheiber
Pro Makeup Artist
Thank you so much for your support for us artists. It's greatly appreciated and productions are better for it.
Lauren Young
Pro Makeup Artist
I used my case to make an on set Hair Touch Up Kit for those fly-a-ways and other hair/beard needs!
Melissa Street
Pro Makeup Artist
Every makeup artist has to have a few of these in their kit! It's a no brainer because it's easy to touch up on set. I have one case, I open it up, and there you go: my actress's whole face is in that case.
Sarit Klein
Pro Makeup Artist
Used by Pro MUAs Behind the Scenes on:
#MyoCosmeticCases
Shop All Makeup Cases & Accessories: